Hydrafacial
Hydrafacial London
Getting a Hydrafacial London at the 3D Lipo London Clinic could not be easier based in Marylebone, Central London
What is a Hydrafacial ?
Our Hydrafacial London a amazing combination of technologies that is the ultimate facial experience that will rejuvinate skin, this treatment is for everyone .


How does Hydrafacial work ?
Hydrafacial works with advanced technology that gives visible results instantly, above all the 7 step treatment will exfoliate, oxyginate, clense, lift the skin, increase collagen and elastin.
Hydrafacial Before and after
Most importantly you can see the before and after results which give speak for themselves.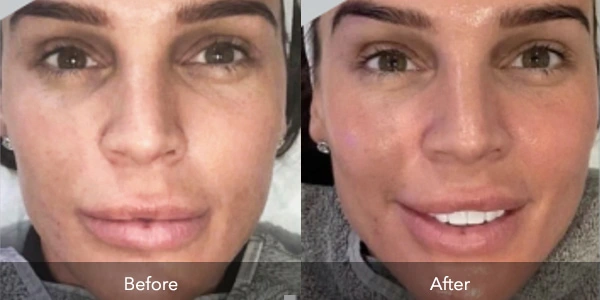 Hydrafacial before and after results pictured in image above

Benefits of a Hydrafacial
Benefits of a Hydrafacial include brightening of the skin which can provide a nice glowing appearance, deep cleansing of the skin and also anti-ageing effects
- Super fast treatment
- Precision application
- Safe and virtually painless
- Affordable
- Unprecededted Results
Hydrafacial Cost
How many Hydrafacial treatment do i need
We advise one treatment per month for lasting results as a reccomendation although it can carried out on a weekly basis.

What will i experience during treatment ?
During your treatment, different hand pieces will be used in differnt motions over the skin. You will also experience a warming and cooling sensation, but the treatment itself is painless, pleasant and very relaxing.
Is Hydrafacial safe ?
Yes it is completely safe treatment to have our clinicians are trained to the highest standards and certified.
How does Hydrafacial feel ?
A Hydrafacial is a very relaxing and comfortable experience, what's more it's very effective sit back and enjoy the ultimate 5 star facial experience.
Pre-Treatment Advice
It is important to let your Clician know if you have any of the following
Botox
Fillers
Face Peels
Threads
What aftercare is needed Hydrafacial
After you have had you Hydrafacial treatment it is advised for you to apply SPF30 daily to protect your skin, its importact to continue to hydarate your skin after a Hydrafacial treatment.
Hydrafacial Machine
The machines we use are from 3D Lipo now known as 3d-aesthetics which has a big celebrity following, we only use award winning technology in our London Clinic
What ingredients are used ?
1. AHA solution contains lactic acid and glycolic acid to dissolve keratin following this
2. BHA solution contains salicylic acid
3. Galactomyces ferment filtrate, hyaluronic acid and acetyl hexapeptide 8
4. Sodium bicarbonate and citric acid
5. Finally Oxygenation spray
The 8 Step Hyrafacial
Step 1 - Hydro Peel / Deep Clense
3 Solutions are used in combination. Firstly A AHA based solution is used to clense and smooth the skin, in addition a BHA based solution helps to improve bacteria and inflamation of the skin. Finally the third solution leaves your skin nourished and hydrated.
Step 2 - Hydration / Ultrasound
Hydration ultrasound technology is used to infuse products. This is for anti aging and also hydration of the skin in areas whrere fine lines and wrinkles usually appear.
Step 3 - Exfoliation / Oxygenation
This creates something known as 'the Bohr effect' This will allow oxygen to be drawn into the skin. The active ingeredients are Retinol and Kojic Acid most importantly resulting in hydrating and brightness.
Step 4 - Skin Lifting
This treatment uses electroporation in essence increases the absorbency of the cell for product penetratio. Consequently this revitalises and wakes up lifeless dull looking skin.
Step 5 - Fire Facial
The fire represents the heat element during treatment. Using this applicator, heat is incorporated into the begining of the facial most importantly used to open up the pores and in turn increaseing blood supply therefore aiding product infusion.
Step 6 - Ice Facial
The Ice Facial uses Cryo technology used to cool the skin, taking the skin temperature down to 5 degrees celsius. This is the process used at the end of each facial to decrese the blood supply as a result giving a tightening effect in the infused products. In addition reducing redness following a facial treatment.
Step 7 - Oxygenation
This is a spray which creates a venturi effect which breaks down molecules within the product, above all encouraging maximum absorbtion allowing intense skin hydration. Cells lacking oxygen slows down the metabolism, as a result ageing cells prematurely, reducing skin firmness and giving a pale ashen complexion.
When oxygen is added to a cell it increases cell metabolism and this improves these concerns. There are some types of bacteria unable to live in a oxygen environvent so in adition applying the oxygen to the skin will gives an anti-bacterial effect. therefore having a positive effect on congestion.
Step 8 - Skin Tightening
Finally Radio frequency is used this increasees collagen reproduction in skin. Skin tightening is great as an anti-aging facial.
What skin conditions does Hydrafacial treat ?
Most importantly this is a complete facial solution targeting many skin concerns for instance, skin-ageing, dull complection, congestion, dehydration, and loose skin
HydraFacial Near Me
HydraFacial near me , to conclude we are based in London Marylebone close to Marylebone station and also Baker street station