Tired of the endless cycle of shaving, waxing, and plucking? Then laser hair removal treatment might be the perfect solution for you. Let's find out more about it…
What is laser hair removal?
Laser hair removal is a non-invasive cosmetic procedure that uses concentrated light energy to zap those pesky hair follicles and significantly reduce hair growth. Forget about the traditional painful hair removal methods and embrace this game-changer that works wonders for various skin tones and hair types. With just a few treatments, you'll be well on your way to smoother, hair-free skin that lasts way longer than traditional hair removal methods like shaving, waxing, and plucking.

Laser hair removal technology
Laser hair removal is all about the power of light. There are various types of lasers used in this process, and each works at a different wavelength. At 3D Lipo London, we use 3D-Trilogyice. This method combines the proven benefits of 3 wavelengths, achieving maximum results and versatility when compared to a single wavelength for all skin types. This powerful combination of different penetration levels of wavelength ensures that you receive one of the most comprehensive hair removal solutions available. 3D-Trilogyice's modern technology makes it possible to treat a wide range of skin tones and hair types effectively and safely. The melanin content in the hair attracts the pulses to conduct the heat rising the temperature of the follicle above the temperature of the dermal tissue. That's how it achieves permanent hair reduction.



How laser hair removal works
Imagine a world where you don't have to worry about prickly stubble or painful ingrown hairs. That's what laser hair removal is all about. During the treatment, a trained technician uses a special device to emit a precise beam of light onto your skin. This light is absorbed by the pigment in your hair follicles, generating heat and ultimately destroying the follicles responsible for hair growth. Don't worry, though – this process is targeted, so it doesn't harm the surrounding skin.


The main benefits of laser hair removal treatments
If you're still on the fence about laser hair removal, here are some awesome benefits to consider:
1. Long-lasting results: Say goodbye to the never-ending cycle of shaving or waxing. With laser hair removal, you can enjoy smoother, hair-free skin for a much longer time.
2. Precise targeting: The laser targets individual hair follicles, ensuring an accurate and efficient treatment.
3. Cost-effective: Although the upfront cost might seem steep, it can save you money in the long run, as you'll spend less on razors, waxing or other hair removal products.
4. No more ingrown hairs: Laser hair removal eliminates the risk of ingrown hairs, bumps or razor burns. 5. Minimal downtime: Unlike other hair removal methods, you won't need to wait for your hair to grow back before your next treatment.
And that's not all! Check out our blog on the top 10 brilliant benefits of laser hair removal.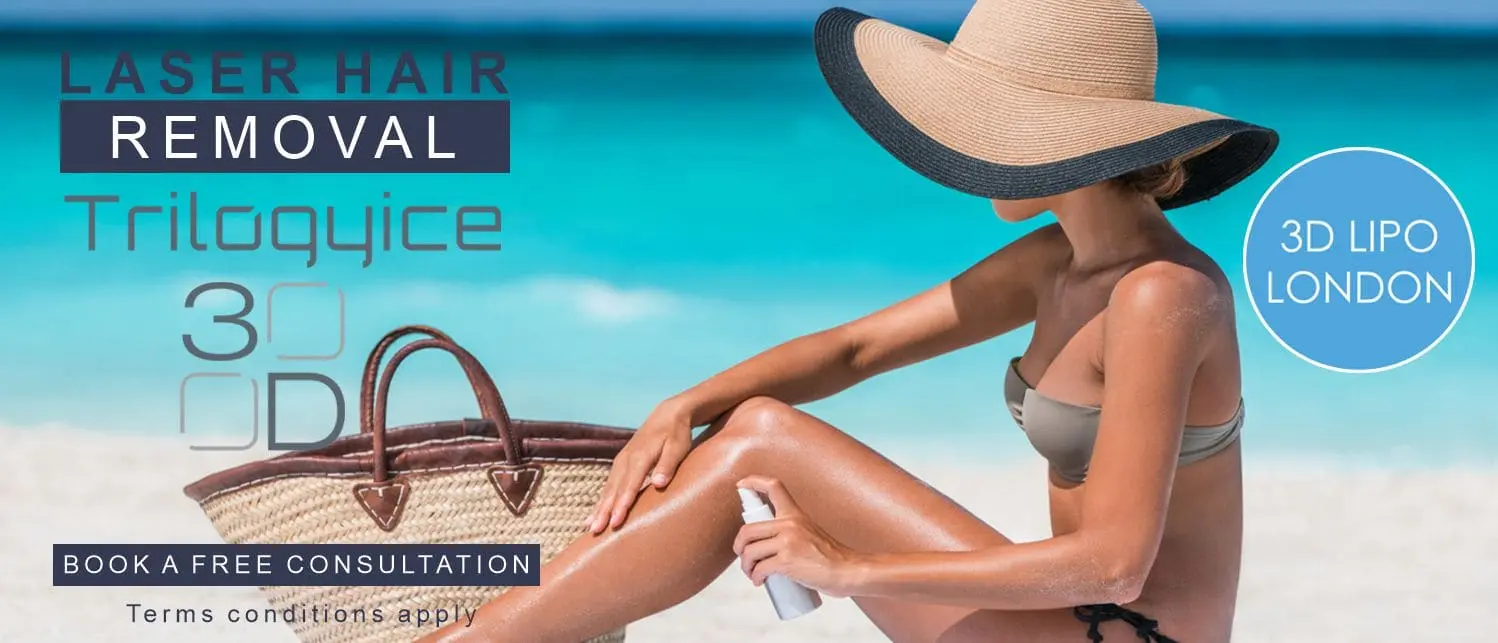 What to expect from your first laser hair removal consultation
Feeling a bit nervous? Don't be! Your first laser hair removal consultation is your chance to ask questions and learn more about the process. You'll meet with our skilled professional who will assess your hair and skin type, discuss your expectations, and create a personalised treatment plan. They'll also explain how to prepare for your session, potential side effects, and aftercare instructions. Laser hair removal pre- and after-care instructions Just like with any cosmetic procedure, proper care before and after your laser hair removal treatments is crucial. Here's what you need to know: How to prepare for your laser hair removal session
1. Avoid sun exposure: Stay out of the sun and avoid tanning beds for at least four weeks before (and after) your treatment.
2. Skip other hair removal methods: Don't wax, tweeze or use depilatory creams for at least four weeks before your session. Shaving is allowed, though!
3. Shave the treatment area: Shave the area you want to be treated 24 hours before your appointment to minimise any discomfort.
4. Gently exfoliate: You can use body and face scrubs a few days before the treatment, it helps prevent ingrown hairs.
5. Keep your skin clean: Remove makeup, lotions, and other products from the treatment area before your session.
6. Be mindful of your skincare: Don't use products containing retinol or AHA (such as glycolic acid and lactic acids) prior to or during your hair removal treatment.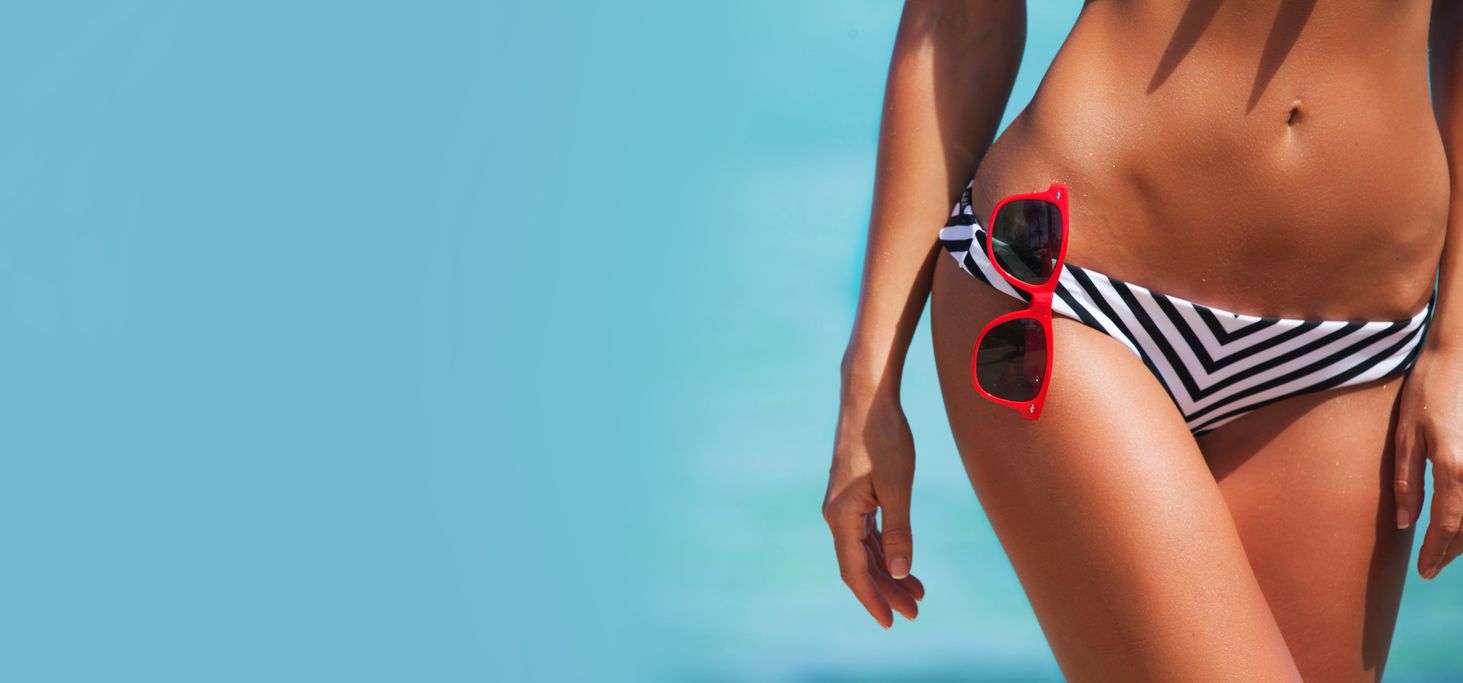 How to care for your skin after a laser hair removal session
Post-treatment care is essential for ensuring the best results and minimising potential side effects. Here's what you should do after your session:
1. Stay cool: Keep the treated area clean and cool for the first 24-48 hours. You can use ice packs or cold compresses to soothe your skin.
3. Sun protection: Wear sunscreen with at least SPF 30 on the treated areas to protect your skin from the sun. It's important to maintain sun protection throughout your treatment course and even afterwards.
4. Avoid heat: Steer clear of saunas, hot tubs and hot showers for at least 48 hours after treatment. Use only warm water to wash.
5. No picking or scratching: Resist the urge to pick or scratch the treated area, as this can lead to infection or scarring.
6. Patience is key: Remember that shedding of the treated hair may take a few weeks, so be patient and don't expect instant results.
Laser hair removal: common questions
Got questions? We've got answers! Check out these FAQs to help you make an informed decision about laser hair removal.
Is laser hair removal painful?
Pain tolerance varies from person to person, and some areas of the body can be more sensitive than others, such as bikini line or upper lip. You may experience a warming sensation, but the treatment itself is virtually painless.
Is laser hair removal expensive?
The cost of laser hair removal can vary depending on factors like the size of the treatment area, the type of laser used, and the number of sessions required. Although it may seem pricey at first, the long-term benefits can make it a cost-effective option compared to other hair removal methods.
Is laser hair removal safe?
When performed by a trained professional, laser hair removal is very safe. However, it's essential to follow pre- and post-treatment care instructions to minimise any potential side effects. At 3D Lipo London, we use 3D-Trilogyice technology that ensures a safe, comfortable and effective treatment. The energy pulses of the trilogy in motion protocol work by gradually heating the dermis and damaging hair follicles whilst avoiding injury to the surrounding tissue. Find out more here.
How long does each session last?
The duration of each session depends on the size of the treatment area. Small areas, such as the upper lip, may take only a few minutes, while larger areas like the back or legs can take up to an hour or more.
How long until I see results?
You may notice a reduction in hair growth after the first session, but it usually takes 6 to 8 treatments to see full results. Remember: patience is key and each person is different!
How many sessions of laser hair removal treatments do I need?
The number of sessions needed varies for each individual, but most people require around 6-8 treatments spaced 4-6 weeks apart for optimal results. Our technician will provide you with a personalised plan based on your skin type, hair type and growth pattern.
Is laser hair removal really permanent?
Laser hair removal offers long-lasting hair reduction, but it's not 100% permanent. Some hair may eventually grow back, but it's typically finer and lighter than before - that means it's also easier to remove later if you do experience regrowth. Maintenance sessions may be needed to keep your skin smooth and hair-free.
Is laser hair removal suitable for men?
Absolutely! Men can benefit from laser hair removal just as much as women. Common treatment areas for men include the back, chest, shoulders, and neck.
Is laser hair removal suitable for teenagers?
While laser hair removal is generally safe for teenagers, it's important to consult with a professional and get parental consent before starting treatment. It's also crucial to manage expectations, as hormonal changes during adolescence may affect the results.
Is laser hair removal suitable for dark skin types?
Yes, laser hair removal can be suitable for dark skin types and dark hair. The 3D-Trilogyice technology we use at 3D Lipo London makes it possible to treat different skin tones and hair types effectively and safely. Our qualified and experienced technician understands the specific needs of darker skin tones to minimise the risk of complications and achieve the best results.

A permanent hair reduction tailored to you
When it comes to laser hair removal, there's no one-size-fits-all solution. Everyone's hair and skin type are unique, which means your treatment plan should be, too. A personalised approach ensures you receive the most effective and safest treatment possible.
Here's why tailored laser hair removal is essential:
1. Different skin and hair types require different laser wavelengths and settings for optimal results. A customised plan takes these factors into account.
2. Tailored treatments can reduce the risk of side effects, especially for those with darker skin tones or sensitive skin.
3. Individual hair growth patterns and density affect the number of sessions needed for the best outcome. A personalised plan accounts for this variability. Get started: book a free consultation now!
The best laser hair removal London clinic
Located in Marylebone, 3D Lipo London specialised in non-surgical face and body treatments since 2017.
We believe that every individual is unique and special - and we take this approach to customise recommendations that fit your lifestyle and help you achieve your goals. That includes the laser hair removal treatments we offer every day.
Our laser hair removal specialist
With more than a decade of experience in Beauty and Wellbeing, Gabriela Nasif is a qualified Clinician with many years of experience in face and body treatments.
She first developed an interest in aesthetics after having her first child.

"I was finding it difficult to shift stubborn fat, so I went to similar clinics but they were either highly priced or just not very helpful", she says.
But Gabi knew she could do better. She decided to expand her expertise into the non-surgical side of things and expanded her qualifications to Coolsculpting and other treatments. Over 10 years later, Gabi is still running the clinic and helping clients achieve their goals.
"We really want our customers to be happy with the treatments and customer service received and we're still managing to do this, as client satisfaction is very important to us."
What our clients say
Check what some of our customers have said:
"Gabi is a professional, knowledgeable and friendly therapist. I visited her for the third time today for the fat-freezing treatment. I was amazed with the results and kept coming back for more. Highly recommend!" - Robin Leung
"After my first session of fat-freezing at 3D-Lipo London, I lost 9 centimetres off my lower abdomen. It really works, which is why I booked another session. I'm very happy with the results." - Ese Eunice Bolade
"Lovely experience! I decided to try Coolsculpting for the first time and I chose this place due to the good reviews that I saw on Google. Everything was perfect, exactly as described by the rest of the users. Gabi was really sympathetic and professional, the procedure was not painful. Can't wait to see the results." - Vera Krasimirova
"I've been coming here for 6 weeks, and have found the experience very therapeutic! Gabi is a very friendly, bubbly person which has made the visit to 3D lipo enjoyable and I have noticed a difference in my arms, which is a very stubborn area for me." - Joy
Laser hair removal prices
At 3D Lipo London, we offer transparent and affordable prices to help you achieve your goal. Here are our current fees:
● Small area: £45 Treatable areas: upper lip, cheeks, chin, naval line, nipples, glabellar, toes, jawline, sideburns, ears, nose, finger
● Medium area: £60 Treatable areas: neck, Full beard, underarms, hands and fingers, feet and toes, knees, bikini lines, perianal
● Large area: £80 Treatable areas: half legs, half arms, buttocks, chest, stomach, full face, Hollywood/Brazillian + perianal
● Extra large area: £130 Treatable areas: full legs including feet and toes, full arms including hands and fingers, full front including chest, stomach and shoulder, full back and shoulders
● Half body: £175
● Full body: £310 (include face for £60 extra)
Laser hair removal reviews
With so much care and professionalism, it's not a surprise that we receive glowing reviews from our customers. We're rated "Excellent" with a 4.9 score on Trustpilot, 5 stars on Google and also 5 stars on Yell.
Wrapping up
As you can see, laser hair removal can be a game-changer for those seeking a long-lasting solution to unwanted hair. If you're considering this treatment in London get in touch! 3D Lipo London is a reputable clinic with experienced professionals who prioritise a personalised approach.
5-Common-Myths-About-Laser-Hair-Removal-Debunked